MATERIKA HAS A SPECIAL PLAN TO FOCUS ATTENTION ON THE FACT THAT NOWADAYS THE KITCHEN IS MORE AND MORE A PLACE TO RELATE AND MEET THE "TASTE." ISLANDS THAT EXTEND TO INVOLVE DIFFERENT AREAS OF THE HOUSE, CUTTING EDGE WINE CELLARS AS AN OCCASION TO SAVOUR TOGETHER THE PLEASURE OF GOOD FOOD. AN EXCLUSIVE VIEW OVER THE CITY WITH ITS OPPORTUNITIES, AN EXCELLENT EXAMPLE OF INTEGRATION BETWEEN THE FUNCTIONAL REQUIREMENTS AND THE UNIQUE BEAUTY OF THE DESIGN MADE IN ITALY.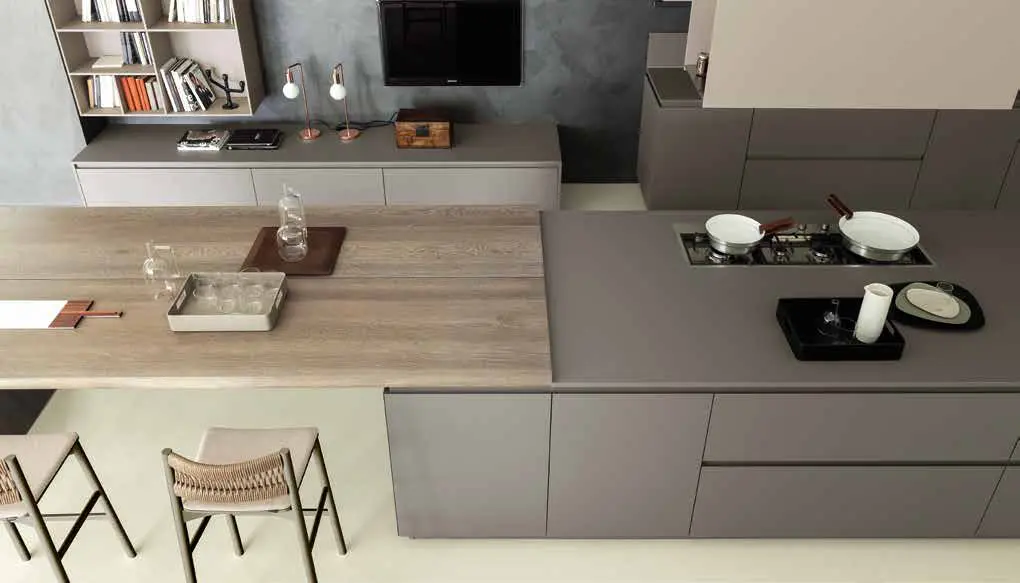 The Fenix laminate dominates the surfaces of the base units with a monolithic aesthetic effect. The central island involves the kitchen area along its entire length, the solid grey oak table develops from the base units and unfolds towards the living side. An invitation to conversation and openness to new frontiers of taste and hospitality
The functional nature of the top is emphasised and enhanced by the design also from a formal point of view, since it leans against a thick side panel, which takes up less space on the floor, making it easier to walk through
The great advantage of the island is that it has large cupboards, which allow a full-spectrum service. This is proved by the way the accessorised baskets are organized with optional metal and wood interiors, ideal for keeping everything inside tidy. The door is designed with a vertical cut at 45°, an aesthetic gem that allows the Fenix finish base units to close perfectly.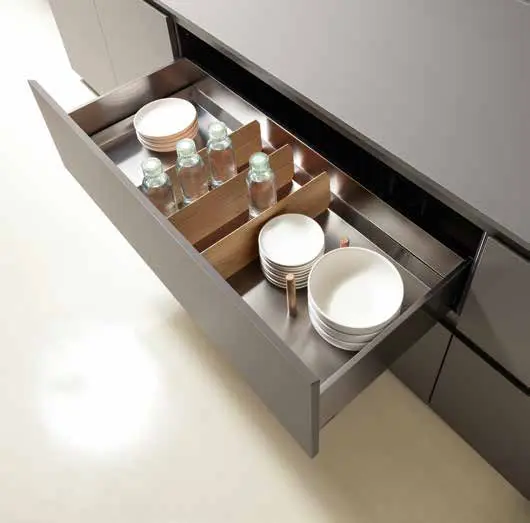 Materika is distinguished by the particular vertical cut at 45° of the terminal door that allows seamless closing. The wall units are equipped with integrated LED lights which illuminate the counter below.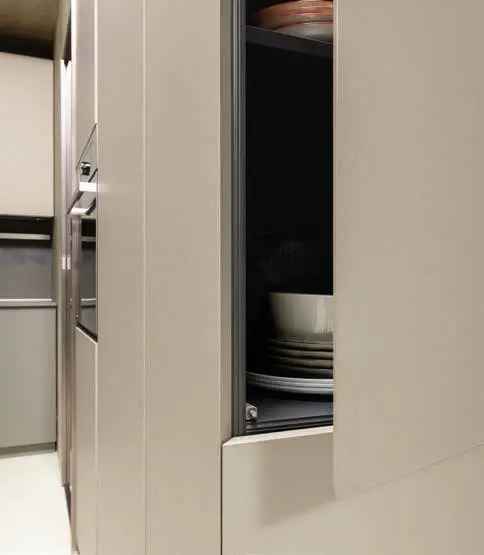 The kitchen is enriched with extremely original "double face" solutions, like the glass columns with a titanium finish, which, while looking like an elegant display, also provide access to a large accessorised pantry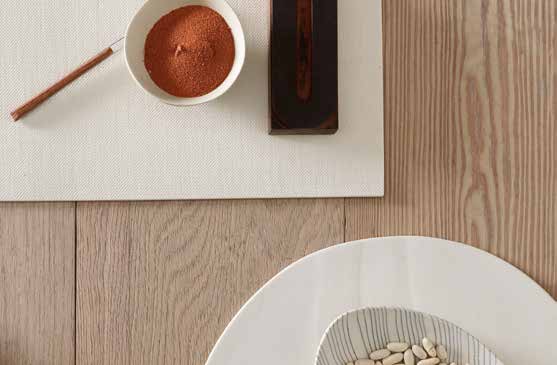 Serving quality wines at the perfect temperature is the prerogative of those who think of the kitchen as a place of hospitality. An avant-garde "wine cellar" with steel and glass doors is equipped with numerous shelves to accommodate the bottles, the temperature is controlled electronically according to the type of wine to be stored and served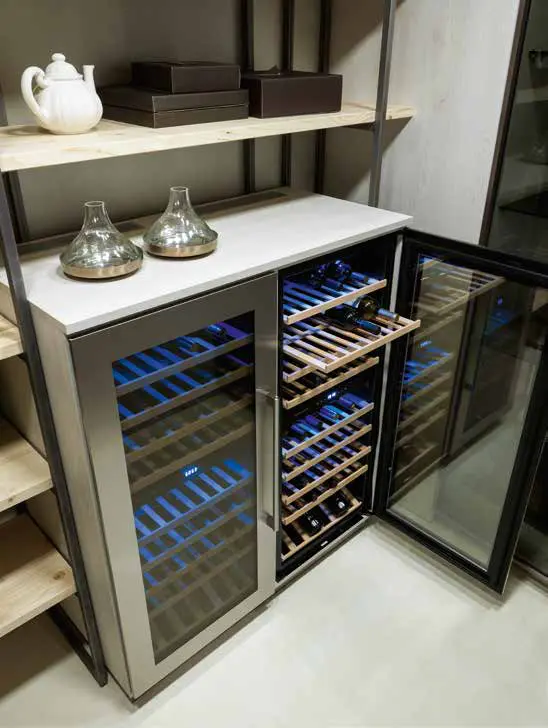 Kitchen
London grey 0718 fenix laminate base units. Grooves and base unit baseboards: London grey 0718 Fenix lacquered.
Tops: London grey 0718 Fenix melamine. Living area base units: London grey 0718 Fenix laminate.
Top: London grey 0718 Fenix laminate. Living open element: zinc 2628 Fenix laminate.
Wall unit doors: zinc 2628 Fenix laminate. Zinc 2628 fenix laminate tall units.
Grooves and baseboards: Zinc 2628 fenix lacquered.
Glass tall unit and door: titanium finish aluminium frame with grey smoked glass, thermo-structured frame S 125.
Island dinette top: vintage grey stained solid oak. Hood: stainless steel with zinc 2628 laminate coating